Takenoko
Now I've finally found my main fabrics, I'm hoping to make a Nara era woman's costume, like this -
My image & information resources so far include the excellent Kyoto Shoin book "Shosoin Textiles" (great colour pics & closeups of 8th century fabrics from the Shosoin Imperial Repository at Nara), the Heibonsha survey on Japanese textiles & kimono (good on early stuff) and a neat book about women's costumes
http://www.amazon.co.jp/gp/product/4879 ... oh_product
from the Jidai Matsuri (the photo above is from that book).
I've got a bit stuck on some of the construction details - simply trying to work out how things go together. For example, I'm not sure if the skirt is made in a similar way to a modern hakama (although this side view suggests otherwise). Perhaps it just wraps around? Is that the edge of a wraparound skirt at the centre back?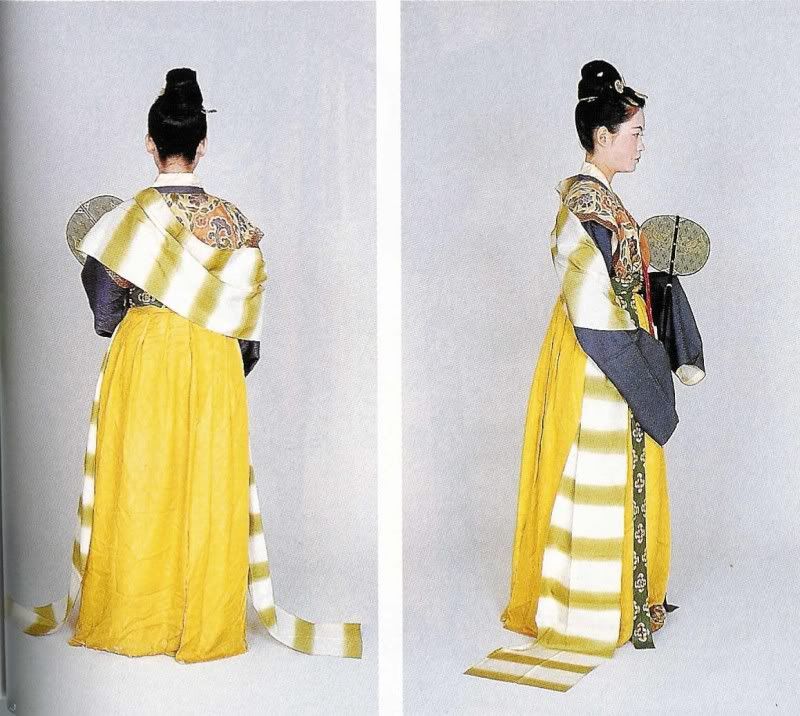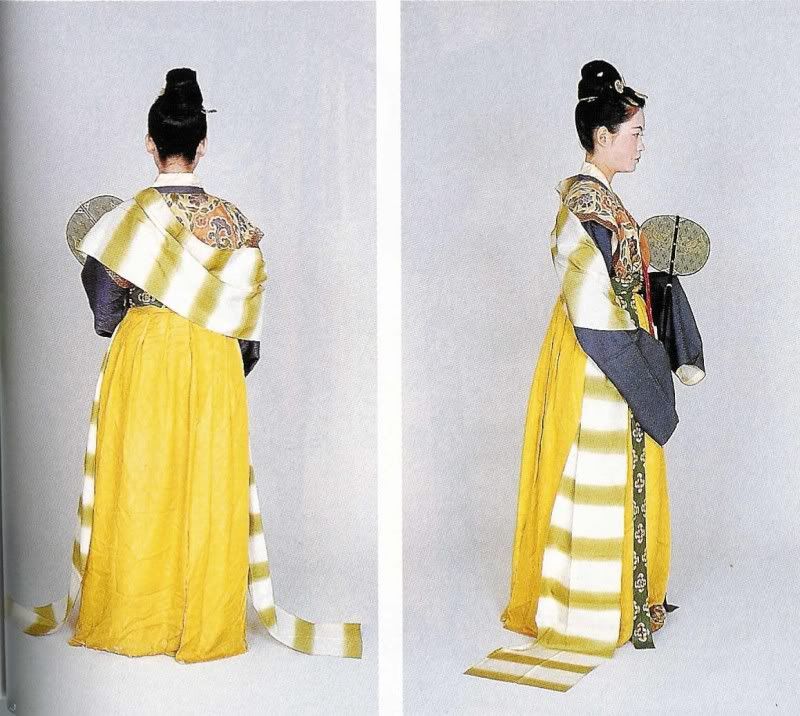 I'm also confused about the neckline & construction of the tunic, as these pictures suggest a round neckline and tabbard-like construction, with two "streamers" or lappets on the front, whereas mboogiedown's blog
http://mboogiedown-japan.blogspot.com/2 ... tsuri.html
shows a V- neckline, more like a modern kimono neckline but without the collar band (second photo).
If anyone can point me in the direction of an good online sources, or has seen the Jidai Matsuri, or one of these ensembles in a museum and can give me any info, I'd be grateful! I've searched the web (in English & Japanese) and found very little (most costume resources are totally in love with the Heian era) and had a good look around here - Fuyou's pictures of the Jidai Matsuri are great, btw. I also looked around kugepoet's wodeforde hall/SCA website, checking out her links, but they are all Heian or later.
The fabrics I'm using are - for the tunic, a jinken nagoya obi -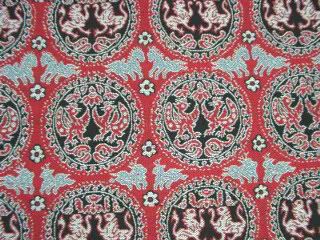 For the skirt, a tsumugi kimono with suitable ikat design, that looks more Silk Road/central Asian than strictly Japanese, as do most of the textiles of this era -
I'm hoping to salvage some of the hakkake for either the wrapover long sleeved top or else will have to find another fabric (maybe a shibori or roketsuzome batik) -
I thought I'd worked out how to make the longsleeved top, from a picture in the Shosoin textiles book, but when I googled "hampi" I found out it was a man's undershirt, not a woman's top shirt!
Any help would be most appreciated. This is just something I've wanted to make for a while, purely for fun (though I might wear it to the solstice party this year).
I'll post pics once I've got it done!