Takenoko
This may seem like a really obscure thread! I am trying to work out what the non-Japanese influences are, if any, for the making of those little chirimen patchwork bags. As a patchworker, as well as a kimono lover, I'm trying to find out more, but so far am not getting anywhere. So wonder if anyone here can help out.
The precise geometric patchwork used for these little bags (which mostly seem to be early 20th century) plus the patchwork method (seamed rather than whip stitched) points to American patchwork as a possible influence. They are unlike komebukuo (rice bag) patchwork, hanui (Nishionmonai) kimono, hyakutoku kimono (kid's patchwork kimono) in that the patchwork is quite complicated (the others are usually straight strips/pieces) and more like the kind of parlour needlecrafts of late C19th USA and UK (although the sewing method looks more American). Sometimes they include applique flowers or animals.
Since there were missionary schools in Japan from the 1860s and many focussed on educating girls, it would follow (as my guess) that part of the school curriculum would have covered needlework, which might just have included patchwork - as being thrifty and a good way to learn how to sew. It would have been on the curriculum in any private British girls school of that time, along with stitching samplers etc. (we are pre modern education reforms, Miss Buss and others here!)
Can anyone confirm that needlework taught by foreigners would have been on the curriculum at a missionary school? Or point me in any relevant directions?
I mean a bag like these -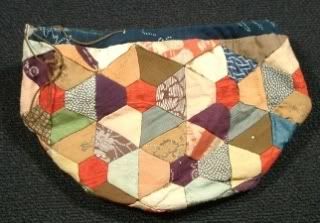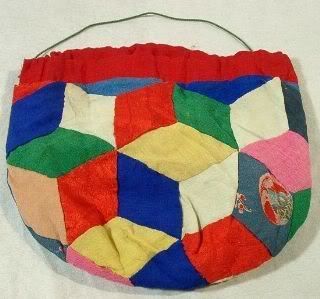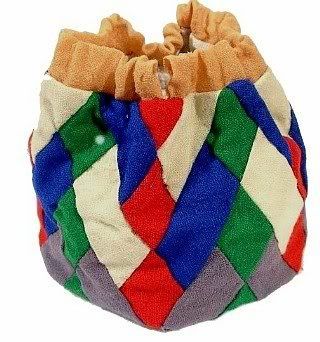 As a patchwork teacher & designer, I'm often looking for missing links like these... :? Hope someone can help! :)