NAME: Iyolin
市田ひろみのひとりで結べるふだん着物の帯結び12種
Ichida Hiromi ni hitori de musuberu fudan kimono no obi musubi 12 - Ichida Hiromi's "You Can Tie It Yourself - 12 bows for the Everyday (Casual) Kimono"
ISBN 4863220030 :jp
Amazon.co.jp Link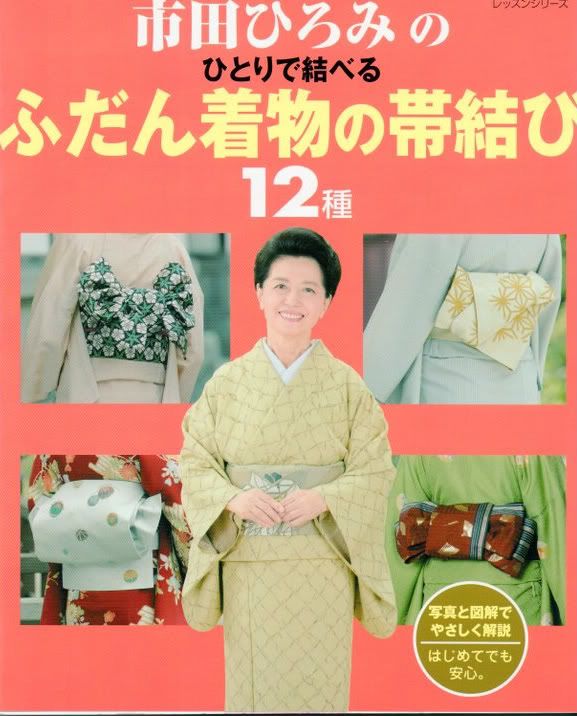 My Review
Admittedly, I purchased this book while at Mitsuwa Market and not because I'd heard of it, and I was hoping they'd have more to choose from. I wasn't going to leave without a kimono book, so I sort of picked out of what they had there. The reason I chose this one was that it's for everyday kimono, which is handy, and most of the musubi look like they could be tied on oneself (with a little bit of modification). It covered basics, like otaiko and bunko, but is predominantly Nagoya obi and hanhaba musubi, with a few heko obi musubi. I especially liked how the same kimono was used several times, with the obi and accessories being changed to give a different feel and to show off a different bow. I also thought the purses were the most adorable things! Additionally, the intro says something about NHK, so I guess the author has helped out on kimono shows or something for them. Maybe if I feel ambitious I'll translate it one day.
The cover of the book isn't the most eye-catching (or maybe it is, being
orange
) or appealing, but if you can get past that, you'll probably enjoy it if looking for everyday obi. (The scan LIES; the cover is ORANGE, not peach!)
The book starts with an intro, and the table of contents, and then it goes into each kimono + obi set, with large, lovely photographs on glossy paper, of the front and back of each outfit. I thought it was interesting to see the heko obi musubi, as they're not tied on really young girls (I'd say mid-late twenties, early thirties), and they're with komon kimono (which we knew was ok). It just seemed to show that it was more acceptable to do, so I would feel comfortable wearing it with confidence (if I had one).
The photos are my most favorite about this book. Most of the instructions are in photographs instead of drawings, and they're rather large, often having only 2-4 per page, as you can see from some of the photos in the album.
The other thing I really liked was that most of the bows are for Nagoya obi, and I know there seems to be a lack of musubi for that, so I was pleased to see that as well, and hope others find it useful. There are 6 for Nagoya, 4 for Hanhaba, and 2 for Heko.
A third thing I thought was nice was that at the end of each tying directions, there's a page with only two pictures, usually full body, to do the "check point" and make sure everything came out ok.
One thing to be aware of is the directions for one of the obi are close, but not quite (they're drawn, directions for the yakko obi, hanhaba, looks almost like kai-no-kuchi). if followed exactly, you'd get kai-no-kuchi, and not the yakko version. I think it'd be easy enough to fix, but I don't know why they didn't catch the mistake in editing.
The obi musubi in the book are not that difficult; I think with a little practice a beginner could do them, and actually remember the different versions of hanhaba musubi quite easily.
The book, with it's many large pictures, is easy to understand and as encouraging as a book that many can't read might be. You certainly don't need to know Japanese to make use of this book.
Overall, it's not a bad addition to the collection. it was around $20, and I know I'll get use out of it, so that's worth it for me. Some of the bows may be in books with more musubi, so that's something to consider, but usually those books don't have instructions as clear as this one does.
Recommended for:
Female kimono wearers
Those who want to wear or learn more casual musubi
Those looking for more Nagoya musubi, hanhaba musubi, or heko musubi
Those advanced wearers who want a few more easy musubi to add to their repertoire (or memorize)
Those who learn best from bigger pictures/visual learners
Not recommended for:
Males (no male kitsuke what so ever)
People interested in children's kitsuke
People looking for formal kimono and obi techniques
Advanced kimono wearers who want a challenge
Book Breakdown
- pictures of each outfit, and saying the kimono and obi type, with obi name
- small pictures and notes about the accessories & underclothing required
- how to dress in kimono by yourself, starting with tabi
- obi musubi, in order of appearance:
一重太鼓  Ichijuu Daiko (basic otaiko) [nagoya]
文庫結び Bunko Musubi [nagoya]
角出し Tsunodashi [nagoya]
リボン結び Ribbon [nagoya]
方流し Katanagashi (slanting roof/one-sided shed) [hanhaba]
桃山 Momoyama (peach tree mountain) [hanhaba]
かおり Kaori [hanhaba]
玉虫 Gyokumushi (jewel beetle) [nagoya]
やっこ結び Yakko [hanhaba]
矢車草 Yagurumasou (Roger's bronze leaf) [heko]
代わり角出し Kawari Tsunodashi [nagoya]
桔梗結び Kikyou [heko]
- page of purses/handbags
- parts of kimono, padding, etiquette, sewing casing for eri shin, chikara nuno, datejime type thing, checkpoints, folding and storage
Scans
Will come later, but for now, look at this
album of photos
!
_________________
Does your signature comply with the rules? Check this thread for details.
To live a
creative
life, we must lose our fear of being wrong. - Joseph Chilton Pearce