NAME: U no Hana
大人のおでかけゆかたコーディネート帖
OTONA NO ODEKAKE YUKATA KOODINETO SHOU.
by YOKO AKIZUKI
Rough translation: Mature yukata coordinates for going out –handbook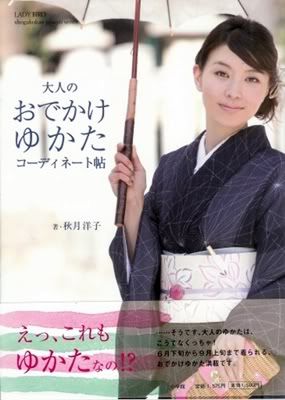 # ISBN-10: 4091022227 # ISBN-13: 978-4091022226

Language: Japanese (with some words in English)
95 pages.
Published in 2008.

Amazon.jp
CONTENTS:
As the title promises, this book is focused in "grown-up" style yukata coordinates, aimed at ladies who are interested in more classical, mature and sober ensembles than the bright and frilly ones featured in yukata magazines for teenagers.
Stylist Yoko Akizuki shows twenty-three stylish urban-chic yukata outfits, for different activities at different moments of the day, along yukata season.
The most part of the ensembles are kimono-like style, with nagoya obi and tabi, even when the yukata are worn without haneri. It seems wearing always tabi is the rule ms. Akizuki gives to achieve a dressed-up and more formal appearance, and this will allow us to wear yukata all day round in urban environement, looking properly dressed for a wide range of activities.
Consequently, all yukata and obi featured in this book are high grade and pricey (this is a fact- checked comment, I've seen some of these yukata and obi in other magazines or shops and they are really expensive,)
The book has five parts:
1- INTRODUCTION, I SUPPOSE:
I'm dubious about the content of this section, it looks like an introduction. In any case there are four lovely outfits.
2- FABRIC DICTIONARY:
with fabric pics and names in furigana.
# Yukata & summer kimono fabric
- Men Ro
- Men Koubai
- Men Tsumugi
- Shibori
- Men Asa (chijimi)
- Men Chirimen
- Men – Kinu
- Kinu Koubai
- Asa (chijimi)
This sections gives advice about the appropriateness of wearing each kind of fabric with or without haneri, rating it with small stars.
#Obi fabric:
it only features two kind of obi fabric, giving eight models of each one:
- Hakata obi
- Asa Obi
This sections gives advice about the appropriateness of wearing each kind of obi with each kind of yukata, rating it with small stars.
3- ODEKAKE YUKATA kOODINETO DIARY:
A diary with different outfits, from June the 20th to September the 14th. Each entry in the diary features a different outfit, put together purposely for a particular social event: a lunch in a café, a meeting in a hotel Biergärten, shopping, jazz live at Blue Note, a champagne party, an opening party…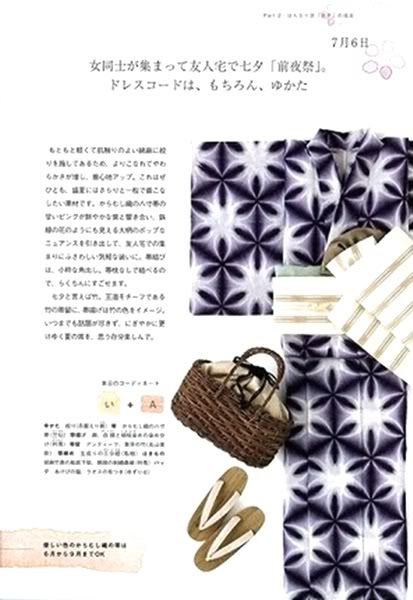 The diary has two parts for two different ladies: Edoko and Kyoko. Each lady has four yukata and five obi, and the stylist combines them in different outfits. It's always very interesting to see how changing obi and haneri changes the global feeling of a coordinate.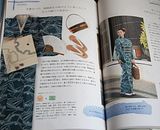 4- ODEKAKE YUKATA STYLING:
All about the appropriate complements to match with your mature style outfits:
- Folding fans.
- Obidome & obi kazari.
- Bags.
- Footwear.
- Kanzashi, hairpins, combs and so on.
- Parasol.
5- YOKO AKIZUKI'S ODEKAKE YUKATA- "MY STYLE"
The stylist shows part of her collection and wears three different yukata outfits.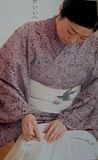 6- ODEKAKE YUKATA Q&A.
Questions, tips and tricks.
PROS:
Rather small size and light weight, a book easy to carry in your handbag.
Names with furigana transcription in the fabric section; very useful.
Full of nice sized pictures, so you can see everything clearly in the ensembles. There are small close ups to show better the details (usually little complements like rings, obi dome…)
It's very inspirational to see how she manages to create very different outfits working with a limited amount of yukata and obi.
Tons of suggestions about a wide range of complements (not only at the final section but in each outfit)
CONS:
It has no suggestions for less dressed–up yukata outfits, it's a pity.
The clothing is very expensive, and it doesn't give clues to achieve this urban-chic look with more common items (Yes, I know, we will do it anyway)
There isn't anything about Shijira cotton kimono/yukata. I really miss some info about it.
Recommended for:
People with some knowledge about kimono and kitsuke, interested in women's contemporary trends and kimono coordinates, with mature and urban style.
Don't recommended for:
Absolute begginers and people looking for a step-by-step kitsuke book.
People interested in formal summer outfits.
People interested in more modern yukata styles, a là Kimono Hime.
People interested in fancy and youthful outfits.
(EDIT to add pics)
_________________