NAME: U no Hana
HEISEI KIMONO GUIDE.

A pictorial kimono book


平成着物図鑑 (単行本)



by RINKO KIMINO

# ISBN-10: 4309268102 # ISBN-13: 978-4309268101

Amazon.co.jp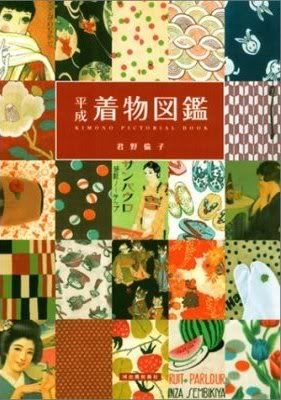 A cute and small kimono pocketbook. Purchased by mistake, its yummy candy-looking disuaded me from returning it.
This really visual book focuses in
everyday kimono styling
, more in "cute and fresh" trend than in "so chic" trend, I think. Although it's not an avant-garde kitsuke, or Kimono-hime style, we can't label it as traditional bourgeois.
Inside you will find:
* Forty-five coordinated outfits for all seasons and a wide range of kimono complements: bags, tabi, haneri, unusual underclothes, zôri and geta, kanzashi and lots of cute obidome and netsuke.
* Small kitsuke tips: how to tie two bunko for hanhaba obi, folding koshi-himo...
* Handmade items (like a strange sleeved shawl) and instructions to make them.
* Nice tiny pics of city sights, shops & restaurants, sweets & foods and real people wearing real outfits.
PROS:
its small size and light weight allows you to carry it in your bag for kimono dreaming at subway or bus.
CONS:
its small size forces to have tiny pics, so you can't see many things clearly.
Recommend
Anyone with some knowledge about kimono and kitsuke, who love looking contemporary inspirational outfits (and don't mind to develope a covetous personality disorder).
Don't recommend
Absolute begginers and people looking for a step by step kitsuke book. Although it has some kitsuke tips it doesn't provide enough information for a proper dressing.
Anyone interested in "kimono theory": kinds of kimono, formality and so on. This book is only about everyday kimono.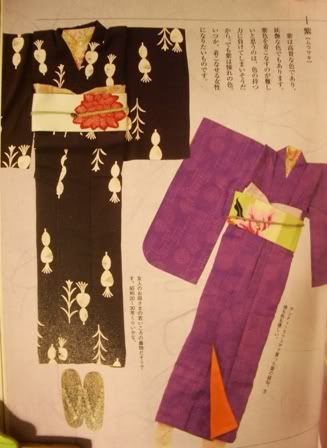 _________________

Last edited by U no Hana on Tue Feb 24, 2009 8:15 pm, edited 2 times in total.