NAME: Hatomune
Japanese dressmaking with DVD はじめての和裁 DVDつき手習い帖 [大型本]

Language: Japanese

No of pages: 159

ISBN-10: 4522424078
ISBN-13: 978-4522424070
Amazon
Yesasia
This book is about making hitoe kimono in the traditional handsewn way. It also has instructions on how to make a variety of kitsuke items (see contents below). About 3/4th of the book is instructions on how to make the items, while the last 1/4th is filled with sewing techniques, a Q & A and basic kitsuke.
The best thing about this book is that it comes with a DVD (1 hour 35 minutes) which takes you step by step, through measuring, cutting, marking and sewing a kimono. The downside to the DVD is that it doesn't cover the other items in the book (like the rain coat)
it only show you how to make a kimono.
Content: Book
P 1-27 - Introductions and photos of kimono
P 28-71 - Kimono
P 72-87 - Han juban
P 88-91 - Hada juban
P 92-99 - Susoyoki
P 100-110 - Obi's
P 111-124 - Rain Coat
P 125-130 - Tabi (23 & 24cm)
P 132-143 - Q&A + stitch glossary
P 144-157 - Basic kitsuke
Content : DVD
Chapter 1: Introduction of materials needed
Chapter 2: How to measure and cut the bolt
Chapter 3: Marking the bolt
Chapter 4 is split into 9 sub chapters and deals with sewing and assembling the kimono.
4:1: Sleeves
4:2: Sewing back panels together
4:3: Making the tuck at the back to the kimono
4:4: Sewing front panels to back panels
4:5: Okumi
4:6: Hemming bottom
4:7: Collar
4:8: attaching sleeves to body
4:9: Finishing the kimono by ironing
Chapter 5: Sewing techinques like basting stitch e.g
Pros:
- Has a DVD showing you how to make a kimono.
- Very detailed
- Comprehensive
Cons
- Has alot of text and it's all in japanese
- Expensive
- Has no instructions for lining the kimono
Recommened for
- Those who want to make a kimono in the traditional way
- Visual learners
Not recommened
- Those who hate handsewing
- Beginners (unless you can read japanese)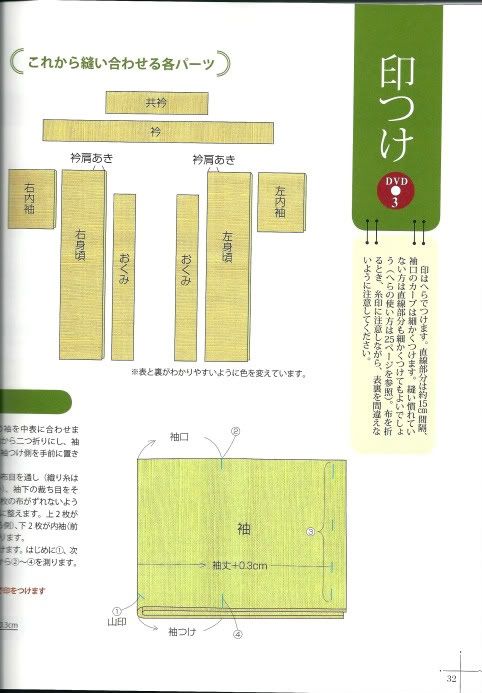 _________________
http://bangasakimono.tumblr.com
Formerly: aoi84