NAME: Titania
Title
"The Fine Art of Kimono Embroidery"
Shizuka Kusano
ISBN-13 : 978-4-7700-3024-5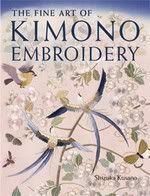 This beautiful coffee-table style book contains the work of Shizuka Kusano, a very talented embroiderer. I have to say, I was disappointed, but that is because I was expecting something that was more "How To".
As the title indicates, she mostly concentrates on showing kimono, tapestries and other items in it as well.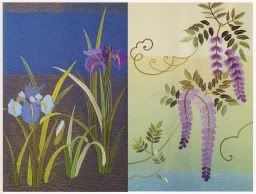 Shizuka Kusano relates to us her inspiration and what mood she means the embroidery to envoke. She is very inspired by other forms of art, especially "the Tale of Genji"
In the back of the book is a shortish chapter on the history of japanese embroidery and finally an essay on the authors journey to her art.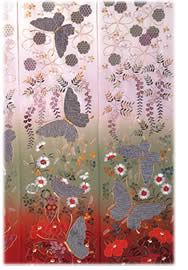 Good for:
Inspiration.
Admiration of sheer beauty
Not recommended for:
This is not a how to book, there are no charts for the embroidery or technical information on how to embroider.
I would probably go to another source for a more indepth analysis of the history of japanese embroidery