NAME: U no Hana
THE NEW KIMONO. From vintage style to everyday chic.



by THE EDITORS OF NANAO MAGAZINE.

ISBN 78-4- 7700-3148-8
Language: English
127 pages.
Published in 2011.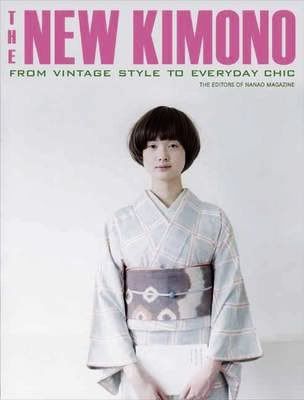 Available at
Amazon
,
Amazon UK
,
Tesco
and other online bookstores. BTW, the Amazon UK mentions
IG Forums
in the Product Description!
(Advice: I've tried to scan new pics so you could see
Rubyminky
's and mine )
CONTENTS:
This book shows a compilation of different articles featured at Nana.oh kimono magazine from 2004 to 2009 (not sure why they write in this book Nanao as in the covers it 's always written Nana·oh)
I would like to advice, though, that vintage is used in the broader sense, meaning not only "antique kimono or obi" but also "secondhand" ones. I would advice, too, that I'm a big fan of the magazine. Sorry if anyone feels I'm too enthusiastic in this review. (Though I don't tend to make reviews about books I don't like)
The book has five chapters with different articles
1. REAL WOMEN AND THE NEW KIMONO:

* Everyday Kimono
(photoshoot- atumn kimono)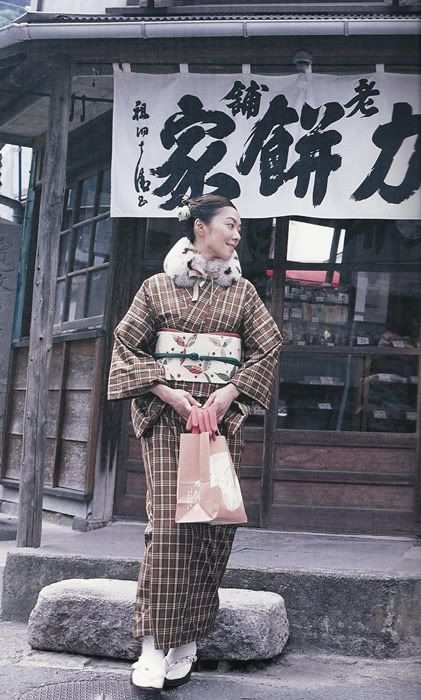 * How I catch The Kimono Fever
(interviews)
* Vintage Summer Style
(styling- summer kimono)
* The World of Wool
(wool fabrics)
* New Year Dreams
(photoshoot- winter kimono)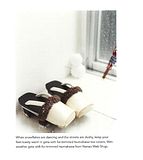 2- OBI AND ZORI
* Choosing an Obi
(tips)
* One kimono, Three Obi
(coordination)
* Free and Easy- Your Very Own Nagoya Obi
(interviews about making your own obi)
* An Obi for Spring
(styling)
* My Favorite Zori
(interview and zori tips)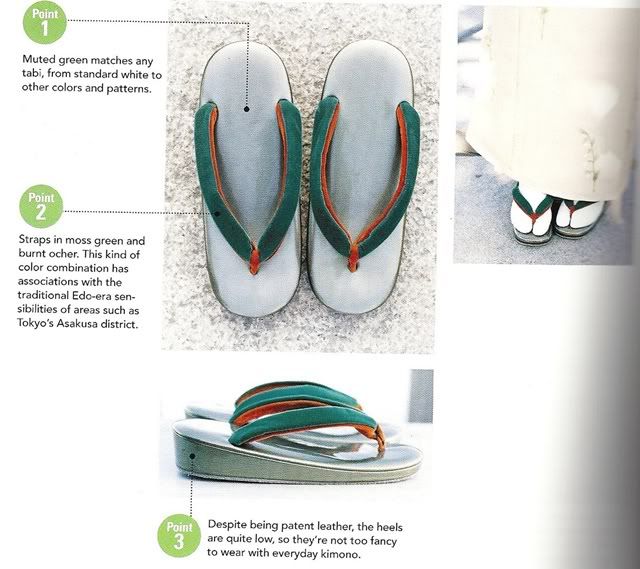 3- COORDINATING YOUR OUTFIT
* Mom's Kimono Gets a Makeover
(styling)
* A wool Kimono Is Like a Pair of Jeans
(Interviews about wool kimono )
* Coordination Clinic- Your Problems Solved
(coordination tips- how to change your outfit changing accessories)
* Spring tsumugi
(styling- spring outfits)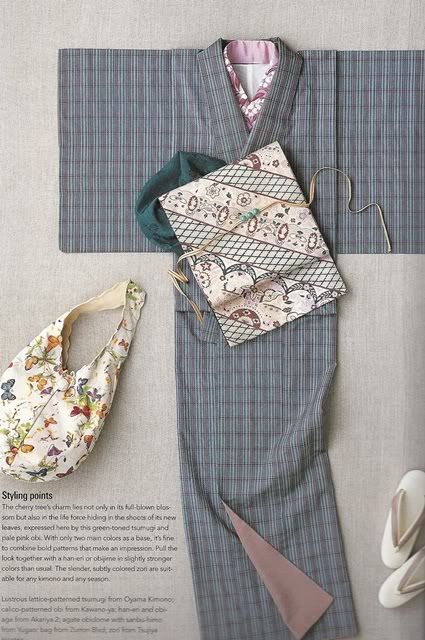 4- YUKATA AND DRESSING FOR SUMMER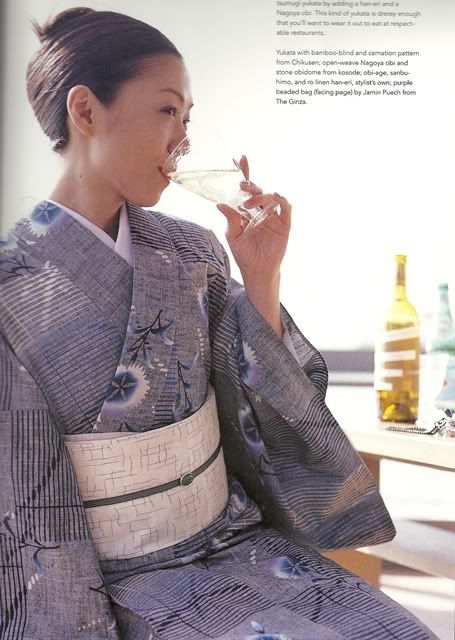 * Yukata - The summer kimono
(Photoshoot & intruducing yukata)
* Yukata Tips
(coordination)
* The Coolest Summer Accessories
(coordination)
* Vintage Fabrics for Summer Days
(vintage summer fabrics)
* Beating the Heat: Tricks and Tips
(interview and tricks for summer kitsuke)
5- A KIMONO DAY OUT IN ASAKUSA
. a kimono stroll around Asakusa, includin shops and photos of street people in kimono.
APPENDIX:
Putting On Kimono an Obi
(includes instructions for juban, kimono, nagoya obi, yukata and hanhaba obi)
Glossary
Price Guide
Shop List
Index
PROS:
- IT'S IN ENGLISH. It's a big pleasure to be able not only to look at the outfits they propose, but understanding the comments and important points (and the small details as well!)
- Written in a fresh and friendly style, encourages the DIY, being creative and doing comfortable kitsuke.
- It focuses in everyday kimono. This means, though, that the outfits are not "bright and daring" and it is full of tsumugi, wool and cotton kimono. (It could be a little boring for ladies in the bright side of kitsuke)
- Shows real women wearing real outfits. They are all kimono-lover ladies and each one has her own taste and her own style, and they look natural and approachable. Very interesting to see something different than perfect models in perfect outfits.
- The interviews wit kimono wearers and stylists are really charming.
- Full of nice sized pictures, so you can see everything clearly in the ensembles, and even guess the texture of some fabrics.
CONS:
I'm not sure these are cons but some things I'm missing. I'm sure, though, it has been a hard work choosing the articles from 16 issues and trying to figure out what would be not only appealing but also instructive to non Japanese kimono lovers. Not to add that we foreign kimono lovers are a very wide target population, with very different levels of kimono knowledge (from totally newbies to quite advanced) and very different ages and tastes.
In any case, what I missed was:
- More "in depth " articles I've seen in the magazines: about different kinds of undergarments, how to make undies & how to "fake" them, cleaning tips or a very interesting one about body shapes and kitsuke tricks (though I believe this was published after 2009). I also missed at least one article about edo-komon, as they published an issue almost entirely focused on them.
- Though it encourages the DIY there are no instructions for making the items. (But in any case I felt so encouraged and relieved after discovering that is ok to remake lovely old juban in obi… it makes me happy)
Recommended for:
People even with a very little knowledge in kimono and kitsuke, interested in women's contemporary trends and kimono coordinates in an urban chic (and slhightly mature) style.
Don't recommended for:
People looking for a step-by-step in depth kitsuke book.
People interested in more modern styles, a là Kimono Hime, or vintage total looks.
People interested youthful outfits in a very kawaii style.
My opinion
Simply, I love it, because it's evident they want their lectors to love kimono, nor to be afraid of kimono.
I really love the strong "you can live in kimono" feeling and the natural styling, and the fact they aren't showing you perfect models in percfect outfits all the time. The interviews with different stylist and kimono wearers provide a variety of ways of approaching to kimono, not always in the same direction :lol: The fact some of them are self taught or learned kitsuke informally at home is encouraging for all of us who can't attend to kitsuke lessons.
The stress in comfy kitsuke makes me feel I have more leeway when wearing kimono, and I don't need to be afraid of taking decissions. And I've learned new words and many interesting tips. :)
So I really hope they publish more books in English.
_________________