NAME: moefen
Kimonos by Sophie Milenovich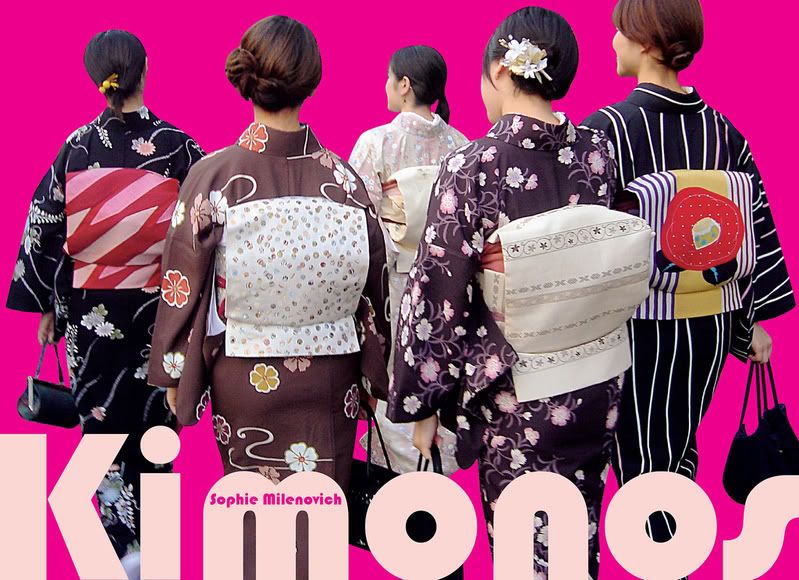 ISBN-10 0-8109- 9450-X
Amazon.com Link
Yes, dear IG readers, as you have guessed by the title, this is not a Japanese book. The title is pluralized which will give knowledgeable kimono aficionados a moment's pause. But I recommend looking past this (and other problems) to what is a quite lovely little book.
Sophie Milenovich is a French fashion designer who traveled to Japan to work with Yohji Yamamoto. While in Tokyo her fascination of kimono grew. She eventually amassed quite a lovely collection (many which illustrate the book), and a love of kimono. This book was first written and published in French, so the English version is a translation. This could one of the reasons for a number of incorrect terms and phrases. It is a little annoying but not particularly misleading.
The book is published by Abrams, which is a well-known art book publisher, and they have done a beautiful job here. It is a small, short and wide hardcover, with a bright pink cover. The pages are matte (non-glossy) and the photography is really crisp and bright. It combines vintage photos, ads, vintage prints, photos of outfits styled for the book, street photography and illustrations in the fashionable new book style that is heavy on pictures, with minimal text. Milenovich's Taisho era kimonos are just to die for!
This is by no means a comprehensive look at kimono (refer to Liza Dalby's for that work), but it is a lovely introduction to kimono for those that know little about it. It touches on many different areas regarding kimono. She opens a kimono to explain the ingenuity in construction, runs the basics of types of kimono (some name mistakes here), touches on how kimono influenced western fashion, specifically Madame Vionnet. There is an interesting discussion of Andre-Leroi Gurhan's "Mileu et techniquesâ€Â