NAME: U no Hana
昭和モダンキモノ―叙情画に学ぶ着こなし術

SHOWA MODERN KIMONO
Lyrical art of painting to learn how to dress.
YAYOI MUSEUM - KEIKO NAKAMURA (edit)

# ISBN-10: 4309727409 # ISBN-13: 978-4309727400
Amazon.co.jp
A compilation of illustrations, vintage photos and ink drawings from early Showa, made by Keiko Nakamura, a Yayoi Museum curator.
The beautiful images not only depict clearly the kimono (as they were published at fashion magazines to learn how to dress kimono) but also the atmosphere of the time.
In each chapter the images are grouped by topics, labelled in Japanese and English at the bottom right part of the pages, making the use of book really easy even for non-japanese readers (like me! ;) )
TOPICS
- Patterns
- Illustrators
- Gesture & Kimono
- Beautiful Gesture
- Beauty on kimono
- Obi
- Haori
- Han-eri
- Juban & Kasane
- Shawl
- On cold day...
- Look at textile...
- Bags, Umbrella, Obiage, Fans, Footwear... (vintage photos)
- Hairstyle (both Japanese and Western)
THE BEST
Discovering that cobweb pattern on black kimono or yukata and experimental mixing yofuku & wafuku, aren´t modern inventions... and fashionist ladies wore kimono with earrings!
THE WORST
Nothing... (but I wish it had the text tanslated into English!)
RECOMMEND
For all kimono wearers interested in vintage kimono and kitsuke. It will be a very inspirational resource, very useful to match vintage kimono outfits.
DON'T RECOMMEND
People very sensitive to images of ladies smoking or playing cards. It was very modern and chic at the time, but now maybe it doesn't look very politically correct...
Some inside book views from Amazon.co.jp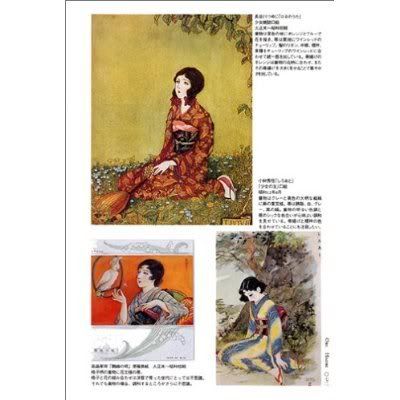 _________________

Last edited by U no Hana on Tue Sep 09, 2008 9:31 pm, edited 1 time in total.