NAME: gingerbread
First Steps by DVD: Kitsuke & Musubi
DVDで着物の手ほどき 着付けと帯結び (DVD de kimono no tehodoki kitsuke to musubi)
ISBN 4415309690
Price: Y1500
Look inside on Amazon.co.jp:
http://tinyurl.com/d27mgqp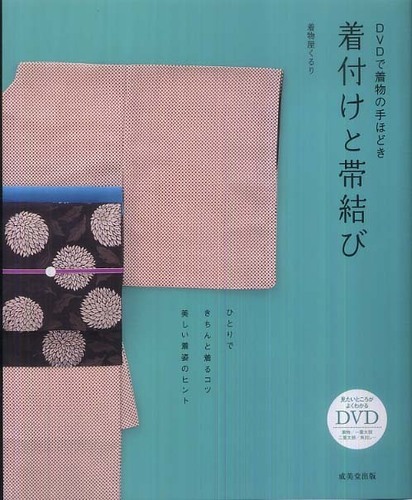 I've been meaning to post about this book for a while! It's a guidebook on basic kitsuke and musubi. Not too small, not too big, and it comes with an excellent DVD that has slow-motion videos. Some of the videos are even from first-person perspective (as if the wearer is looking down and tying an obijime, for example), so it's really easy to follow along.
I know, "aw man, but there's already a number of step-by-step wearing guides out there." I think this one is particularly well-done and has a ton of extra tips and hints for a very good price. It shows pictures of what your results shouldn't look like (labeled "NG") vs. what it should look like (labeled "OK!"). It's all in Japanese, but the pictures are really clear and have little illustrated tips and hints on how to correct problems, too. Sometimes there's a series of images that show degrees of error, for example, when your otaiko musubi is "too big," "too small," "perfect." In the back of the book, there's more in-depth comments on the slightly different degrees of eri exposure, nape exposure, obiage size, etc. It helps to read a little hiragana and basic kanji (like big, small, short, long, etc)
I think it would make a really good gift for someone who is starting to become interested in wearing kimono.
It shows you how to wear:
-kimono (komon or houmongi)
-yukata
It shows you how to tie:
-nagoya otaiko (a couple methods)
-fukuro otaiko
-tsunodashi
-waritsunodashi (with hanhaba)
-kichiya
-heko obi
It also has information such as:
-the merits of different types of underwear
-how to clean and care for kimono and komono
-how to sew a new eri
-the names of all the different parts of a kimono
-a list of komono with their position highlighted on an ensemble
And it comes with the excellent DVD.
Recommended:
- For beginners who can read a little hiragana and basic kanji
- For more experienced kimono-wearers that occasionally forget some method and need a concise reference
- For those who prefer a more refined kitsuke style (no ultra-cutesy musubi in this book, not even chouchou musubi!).. if I had to describe this book with Japanese adjectives, it is much more "iki" and not "kawaii."
Not Recommended:
- For very, very "I can do this perfectly every time with a blindfold on" experienced wearers
- For people who want really cute, elaborate musubi, or want instructions for more formal ensembles
_________________
Image