This is a set that's still in progress, but I thought I would share what I've done so far.
I have always loved skulls and sparkles, and peacock colors, and thought it would be fun to do a kanzashi set that had a sparkley skull theme with peacock-esque colors tossed in. A few months ago, during one of my manic craft supply buying binges I picked up some fantastic skull cabochons with opalescent sparkles (pretty sure it's cut up cellophane in the resin) and decided they were perfect for the project.
I had the time to work on kanzashi this weekend and finished this piece. It was originally going to be for hair, but I waffled on it and ended up adding an obidome converter to the back - so it accidentally became an obidome?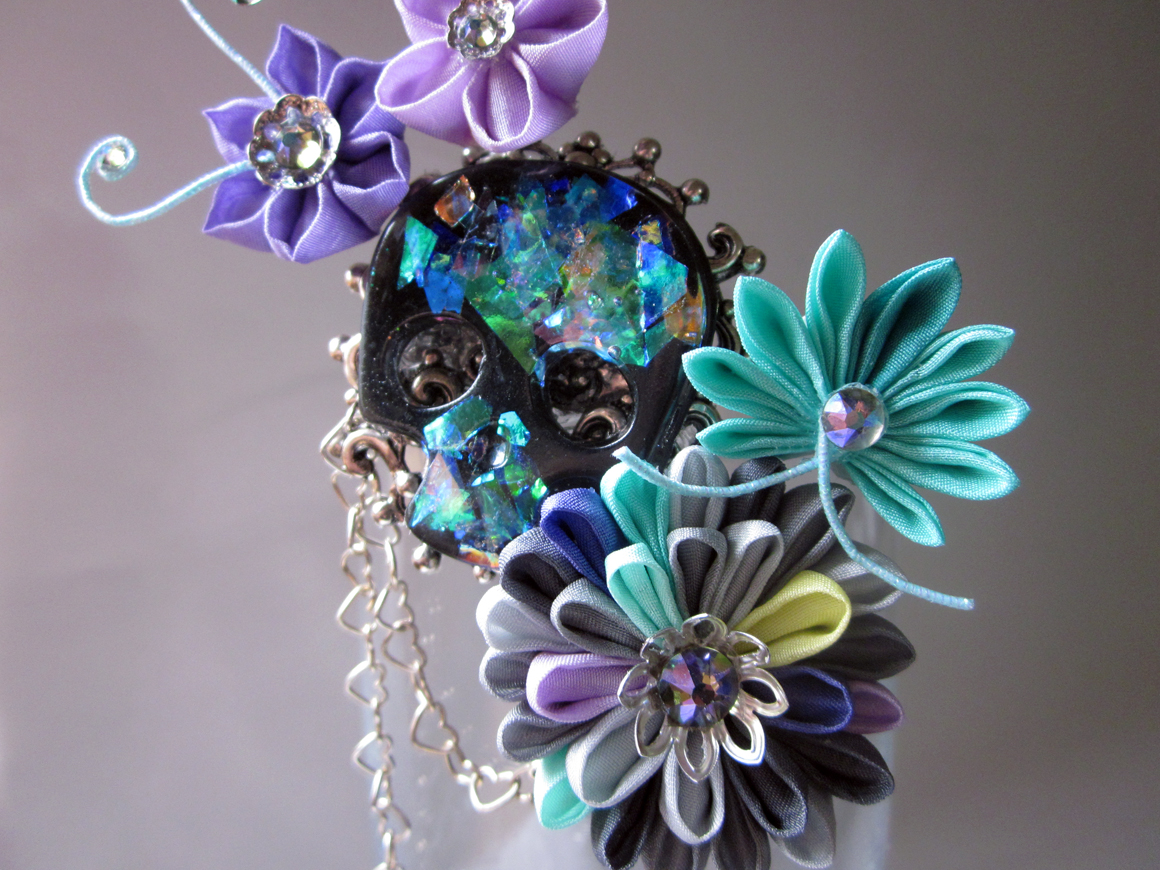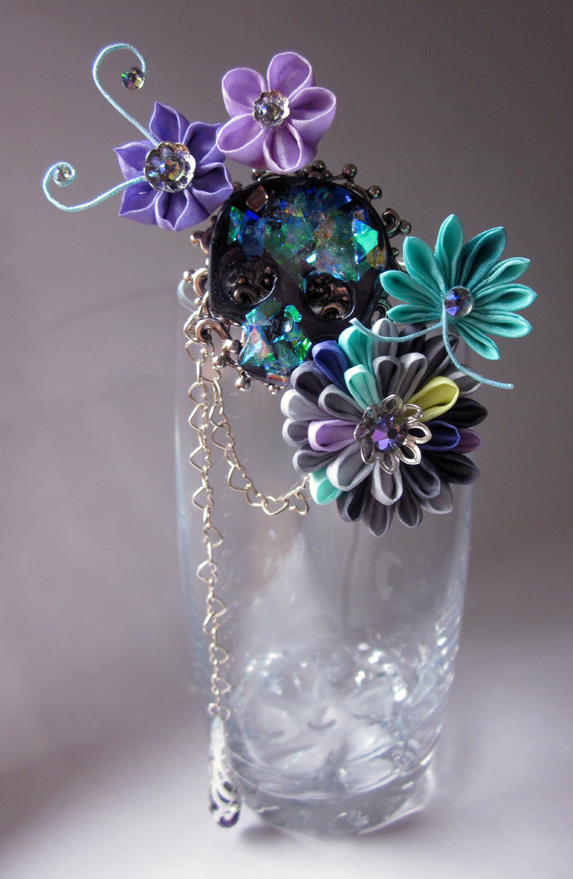 When I make a set of kanzashi I tend to make two pins, a trio (medium pin with three flowers) and a larger cluster of flowers on a prong. I made these two pins as part of that effort, and I've started the trio but haven't finished it yet.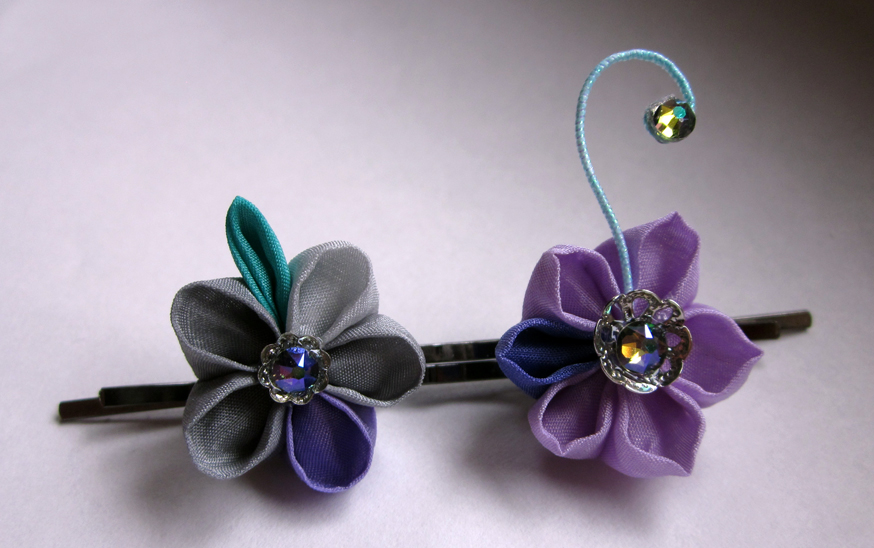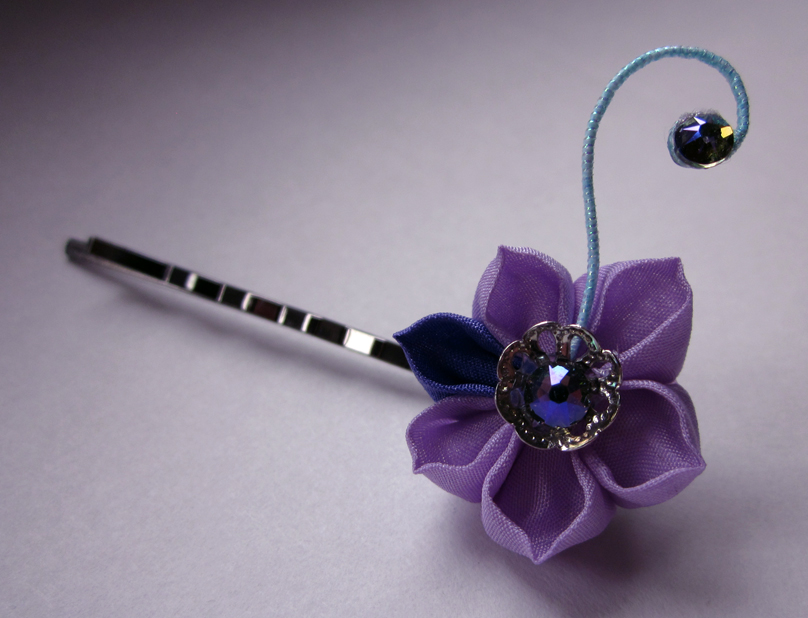 The piece that ended up an obidome was going to be my larger piece, but since it's now and obidome I came up with something else. I'm trying to decide between making a really large chrysanthemum that matches the one on obidome (+ smaller purple and grey flowers and leaves), or making a spider chrysanthemum with glitterwire and a series of smaller flowers to go with it (also + smaller flowers and foliage). I'd love to hear opinions on this.
The trio I'm working on has a grey chrysanthemum, and so does the obidome, so I feel like doing something different for the large kanzashi cluster might be kind of nice. Plus, I've been hoarding glitterwire for a while. It might be good to actually use some of it. XD
Whether I go with the grey chrysanthemum or glitter wire spider chrysanthemum, I want the design to feature a death's head moth. Here's the design for it: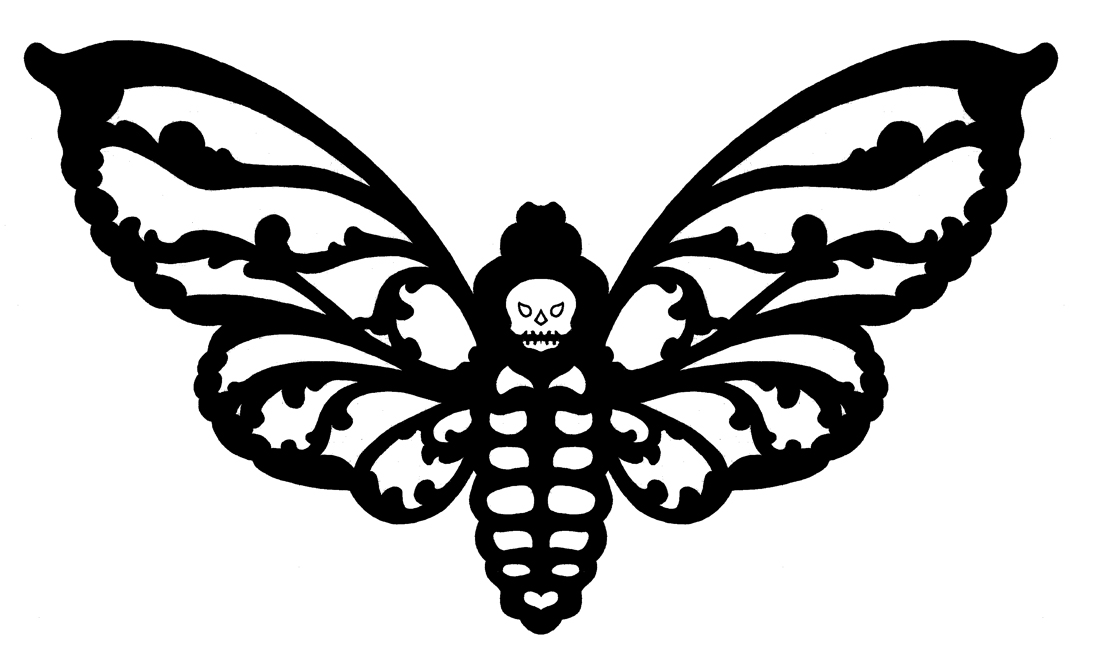 I'm going to cut two copies of it using my silhouette machine from sparkly white cardstock, add black inkblots, then glue a sheet of opalescent cellophane between the two layers to give it iridescent wings. I've got some small skull cabochons coming in the mail that are going to get glued in the spot where the skulls is in my design.